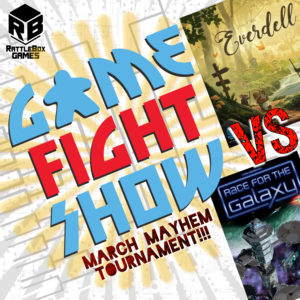 The Semi-Finals are here, and we're PUMPED. What an exciting match up we have for you today! Rob and Brendan are joined by Thunderworks Games' own Keith Matejka to discuss the match up between Everdell and Race for the Galaxy. Join us, won't you?
Also, here's the voting spot:
Here's the bracket going into this episode:
And here's your podcast episode. Go enjoy!
(Game Fight Show) March Mayhem 2021 ep17: Round 4, Bout 1