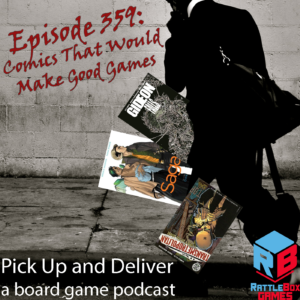 Brendan discusses some comic book stories he'd like to see adapted to board game form, as well as some that already have been adapted. Join us, won't you?
Gideon Falls
Games already adapted out of comics
Close adaptations without really using the IP
Adaptations I'd like to see
Comics it would be hard (or impossible?) to adapt to board games
What comics would you like to see made into board games? Have you read the comics Brendan mentioned? Head over to the Boardgamegeek.com guild, #3269, and share your thoughts!
Pick Up & Deliver 359: Comic Book IPs